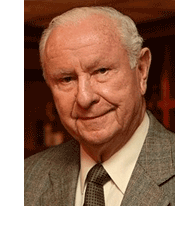 Don Fernando Eleta, a graduate of Stanford University and the Massachusetts Institute of Technology (USA), was Minister of Finance and Treasury (1958-1960) and Minister of Foreign Affairs (1964-1968) of the Republic of Panama and Co-Founder of the Inter-American Development Bank (1960).  He was responsible for the negotiations of the Panama Canal Treaty, approved and signed in 1967—and serving as a template for the Torrijos-Carter Treaties signed in Washington, DC in 1977.
Media and finance pioneer, Mr. Eleta was Chairman of the Board of a number of corporations including Medcom Holdings, Inc. and Cable Onda, S.A.; Co-Founder and President of Aseguradora Mundial, S.A.; and Co-Founder of Desarrollo Industrial, S.A. and Banco Exterior, S.A.  He also co-founded the Organization of Iberoamerican Television (OTI) and the Central American News Agency (ACAN), which later merged with the Spanish news agency EFE to become today's ACAN-EFE.
A visionary business leader who founded and served as the First President of the Panamanian Association of Business Executives (APEDE), Fernando Eleta was ahead of his time in understanding and fostering the interdependence of conservation, science, and economic success.  He was the Founder and First President of the National Association of the Conservation of Nature (ANCON), and Founder and Honorary President of what may well be his greatest legacy: The City of Knowledge—an international education and research complex that has transformed a former US military base into an engine of Panama and Latin America's competitiveness and environmental stewardship in the ever more knowledge-oriented global economy.
Mr. Eleta was decorated with honors and recognitions by Panama, Peru, Argentina, El Salvador, Mexico, Guatemala, Spain, Italy, Ecuador, Taiwan, Chile, Colombia, and Malta.
Founder and President of the Sociedad de Caballos de Carrera, Don Fernando was an avid horseman and breeder of thoroughbred race horses and Peruvian paso fino horses.