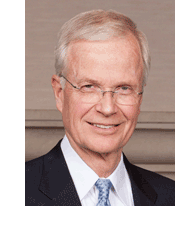 Mr. John Evans has worked with Wells Fargo Bank since 1969, after graduating from the University of Utah.  He was appointed Regional Manager of South/Central/Eastern Europe, and subsequently transferred to Tehran to open the Middle East as Managing Representative.  Later, he managed Wells Fargo's European Continental Corporate Banking headquartered in Brussels.  After returning to Los Angeles, he was appointed Group Manager of the Metropolitan Division.  In 1980, Mr. Evans assumed the position of Corporate Banking Manager of the bank's Utah affiliate in Salt Lake City.
In 1986, Mr. Evans returned to Southern California to manage Wells Fargo's Business Banking Orange County Airport Office.  He became Senior Vice President and Regional Manager at Wells Fargo Newport Beach Private Client Services Office in 1991 and oversaw trust, investment management, brokerage, and private banking activities until his retirement 2012.
During his time at Wells Fargo, Mr. Evans helped guide the bank's philanthropic focus.  He continues to serve or has served on the boards of numerous non-profits, including the boards of the Orange County Performing Arts Center, the Pacific Symphony Orchestra, Orange County Business Committee for the Arts, Brandman University, Arts Orange County, Chapman Law Advisory Board, and the MIND Research Institute. He has been adjunct professor of internal finance.
Mr. Evans is also heavily engaged at the University of California, Irvine.  A Trustee of the UC Irvine Foundation, Evans chairs Finance, and serves on the Paul Merage School of Business Dean's Advisory Board and the School of Physical Sciences Leadership Council.
An avid traveler and mountain climber, he has scaled Kilimanjaro, trekked the Himalayas, and the Alps, and has ridden cross country on his Harley motorcycle. Married to Ruth Ann Evans for 47 years, they have 4 children and 9 grandchildren.