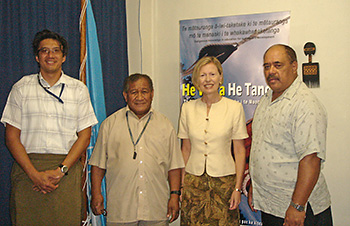 Dr. Ayala's visit to UNESCO's Apia Office in September 2007
(photo courtesy of the UNESCO Office for the Pacific States)
The UNESCO Office for the Pacific States (a Cluster Office of the Paris-headquartered United Nations Educational, Scientific, and Cultural Organization, based in Apia, Samoa, and headed by its Director Dr. Visesio Pongi) and PANGEA WORLD ratified a Partnership Agreement on 9 October 2008.
The two parties have identified valuable synergies between UNESCO Pacific's goal "to contribute to the construction of peace, human development, and intercultural dialogue for a sustainable Pacific through education, the sciences, culture, communication, and information" and the PANGEA WORLD mission's prime focus on charting an economically viable "knowledge infrastructure" for valuing, protecting, and distinguishing the Pacific Island Region's heritage riches, with major social dividends. Their strategic alliance permits to combine the credentials and tools of PANGEA®'s model of a "knowledge-powered, heritage-nourished economy" with UNESCO Pacific's understanding of the island nations' environmental, social, and other needs. The aspiration behind this alliance is to work together—and in coordination with the region's governments—to empower the Pacific Island Nations to champion a knowledge economy that elevates heritage conservation to an engine of the region's sustainable prosperity.