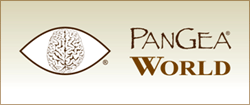 CONTACT:
Don Lehr, The Nolan/Lehr Group
(212) 967-8200 / dblehr@cs.com
PANGEA WORLD unveils transnational model
for science research and conservation
Nascent partnership could position UC Irvine as leader in science diplomacy
 Irvine, Calif., Feb. 11, 2014 – An international endeavor combining science research with a business model centered on luxury resort developments and resort-style estates was unveiled Friday by Pangea World at the Arnold & Mabel Beckman Center of the National Academies of Sciences & Engineering.
The kickoff symposium, "The Economic Epic of Earth's Evolution: the New Geography, Diplomacy & Legacy for the Knowledge Economy – from California to the World," featured presentations by scientists, diplomats, government representatives and corporate leaders assembled by Hana Ayala, president and CEO of Pangea World.
Ayala wants to position California – a Pacific gateway – as the geographic and academic anchor of a global effort to trigger knowledge based on natural resources as an origin of wealth.
"The knowledge resource embedded in the Earth's evolutionary and ecological fabric could outperform metal ores and fossil fuels in endurance and lasting benefit to humanity, foster a culture of peace, and bolster conservation measures to mitigate rising temperatures around the world," Ayala said.
The event also revealed a nascent strategic partnership that could place the University of California, Irvine, at the forefront of high-level science diplomacy for global sustainability.
"UC Irvine is taking the next step in the dream to connect our campus with the untapped knowledge that resides in the Pacific and the Pacific islands," said Michael Drake, chancellor and honorary chair of the symposium. "The promise of Pangea World is to extract the knowledge of this great region of sustainable biodiversity for the benefit of all humankind. Together, we can create a global window through which we can protect our future."
Albert Bennett, the campus's vice provost for academic initiatives, said a partnership between UC Irvine and Pangea World joins two young, entrepreneurial, and intellectually audacious forces. "It would maximize the efforts already undertaken by our practitioners worldwide," he said, "positioning UC Irvine as the nation's top institution studying sustainability."
The grand science themes outlined can only be pursued via studies at multiple sites around the world, Ayala said, and are beyond the existing scope of scientific research. Summarizing these themes were John Avise, Distinguished Professor of ecology & evolutionary biology at UC Irvine; Marjorie Reaka, professor of biology at the University of Maryland; and Adam Wilkins, "Perspectives" editor at the journal Genetics.
Those themes include reconstructing the genealogical histories of marine species across the world's oceans to pinpoint areas of historical biological significance, determining how the birth and death of species mold the patterns of life across the globe, and enabling a comprehensive study of relationships between prokaryotic organisms, such as bacteria, and species in coral reefs, which could lead to a better understanding of how human immune systems function in various conditions.
Michael Clegg, the Donald Bren Professor of Biological Sciences at UC Irvine and foreign secretary of the U.S. National Academy of Sciences, underscored the importance of the Pangea World concept as a model for sustainability.
"In order to improve the quality of human life in the face of increasing demands on our earth's resources, we must develop scientific approaches to problems of sustainability," Clegg said. "Pangea World's vision embodies strategic synergies linking the creation and utilization of scientific knowledge to a business model firmly grounded in legacy investment opportunities." Ayala and Claus Mittermayer, director of Endeavor Group International, described one example of a luxury resort legacy investment opportunity, a flagship project in the Pearl Islands off the Pacific coast of Panama.
"The knowledge derived from research here can be transformed into powerful engines of regional, national and global economies," Mittermayer said. "These islands are completely pristine environments and can pave the way for unprecedented scientific progress."
In many Pacific island nations – which are among the world's top biodiversity hotspots threatened by climate change – the Pangea World transnational model for the global knowledge economy can offer a lifeline for their peoples' future.
"Pangea World's strategy of interlinking and valuing multiple pools of knowledge-rich natural capital with a legacy investment in the Panama islands can provide a new economic geography for the future benefit of our people," said Winston Thompson, Fiji's ambassador to the United States. "We remain strongly committed to this vision."
Pangea World's partnership with the Culture of Peace Foundation in Madrid, Spain was explained in a videotaped message from Federico Mayor Zaragoza, president of the foundation and former director general of UNESCO.
"Today for the first time we have the possibility through new technologies to transmit our knowledge and work together," Zaragoza said. "Our foundation values its association with Pangea World to bridge this knowledge power and noble wealth worldwide."
While signaling its desire to anchor its headquarters in the context of UCI's academic preeminence, Pangea World also announced a trans-Atlantic link with Villa Tugendhat, a UNESCO World Heritage architectural masterpiece in the Czech Republic.
"Tugendhat and Pangea World can be catalysts of international collaboration positioned to inspire and bolster the seeds planted by today's event," said Dr. Mojmír Jeřábek, head of the foreign relations department in Brno, Czech Republic.
"The headquarters will spur novel cross-disciplinary and cross-national approaches and collaborations that invite, support, and celebrate the world-class expertise of the University of California, Irvine, and its sister UC campuses," Ayala said. "It will be the crown jewel of the legacy-investment opportunities mediated by Pangea World."
# # #